Battle For Giostone
Description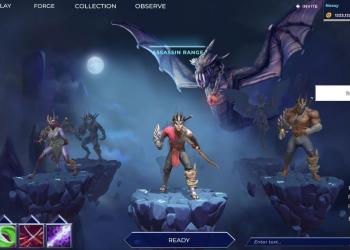 "Battle For Giostone" is a Multiplayer Online Battle Arena (MOBA) game developed by M-Tech Entertainment. Two teams of five players each compete against each other, aiming to destroy the base defended by the opposing team. If the initial victory condition is not met within the first 25 minutes, all players are teleported to a different location, the territory begins to shrink, forcing combat. The last team standing in the battle royale becomes the winner.

Features of the game:

Each player controls a character (Hero) with unique abilities. Each ability belongs to one of six hero classes (Melee Warrior, Ranged Warrior, Melee Assassin, Ranged Assassin, Melee Wizard, Ranged Wizard).
A hero can have a unique ability in one of four slots, these abilities are placed in slots 1, 2, 3, or Ultimate. The total number of abilities in the game is 72.
On the map, there is a unique character, the dragon Gio, which spawns three times during a match. Defeating Gio drops a Giostone, which provides a power-up to the hero who picks it up.
Players can buy items at the base to increase their stats or purchase consumables to use during the match.
Players collect GIOS (utility token, non-blockchain) throughout the game and must keep the tokens until the end of the game to win.


■Game Title: Battle For Giostone
■Genre: MOVA ,5vs5
■Supported Devices: PC
■Status: Closed Pre-Alpha
■P2E: Supported
■Network: Avalanche
■Token: $BFG (Governance Token) $GIOS (In-game Token)
■NFT: Hero NFT
■Provider/Developer: M-Tech Entertainment
■Support: Blizzard Fund, Avalanche Labs,
■Whitepaper: https://whitepaper.battleforgiostone.com/pdf/WP_BFG.pdf
Roadmap
Q1 2023: Primal Giostone League, GIOS utility token launch, Heroes Sale, Marketplace release, Betting Platform release
Q2 2023: Start of Mobile Version Development
Pre Reservation Detail
Web site URL
https://battleforgiostone.com/