FRAME ARMS GIRL: DREAM STADIUM
Description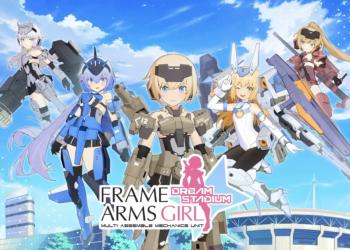 "FRAME ARMS GIRL: DREAM STADIUM" is a blockchain game based on "Frame Arms Girl", a spin-off series of robot model kits released by Kotobukiya. It will be the first title on the Web3 game platform "GAME DOSI", and is scheduled to start service in 180 countries worldwide, excluding Japan, South Korea, and China, from July 6, 2023. In addition, this series has achieved a total shipment of 2.6 million units worldwide, was broadcast as a TV anime in Japan in April 2017, and a movie was also produced in June 2019.

Game Content
The game allows you to experience the exhilarating sense of impact unique to hack and slash games by operating various weapons and skills of "Frame Arms Girl". You can choose new enhancement values for each stage and customize them, optimizing your character to clear each stage. In addition to combat elements, you can also collect various skins and E-units to nurture your own Frame Arms Girl, allowing you to enjoy the game for a long time beyond the short-term growth on the stage.

Users can convert various item parts and character skins obtained in the game into NFTs. Character skins are made as NFTs, and specific item parts are made as in-game currency, but users can choose to create items as NFTs and trade them.

■Game Title: FRAME ARMS GIRL: DREAM STADIUM
■Genre: Roguelite Action 3D RPG
■Compatible Models: PC
■Status: Service scheduled to start from July 6, 2023
■P2E: Supported
■Network: LINE Blockchain
■NFT: Various items and character skins obtained in the game can be converted into NFTs
■Provider/Developer: NE NEXT Inc.
Pre Reservation Detail
Web site URL
https://game.dosi.world/promotion/fagirl